Laser Cutting
Laser Cutting Services and Rapid Prototyping
B&H was one of the first shops in Kentucky to have a 5-axis laser.  Our  4000 watt Prima Domino laser has the following capabilities:
Ability to modify existing 2D or 3D parts.
Can cut up to 3/4" Mild Steel, 3/8" Stainless Steel, and 1/4" Aluminum
Ability to cut stock-strips and avoid costly hard-tooling alternatives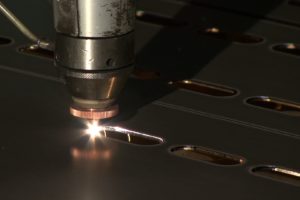 As one of the first job shops in the region to obtain 5-axis laser cutting capability, we are able to cut flat and already developed, formed parts. Has your company ever went into production on a part only to realize a hole was left out? B&H has helped companies solve these problems by using our 5-axis capability to modify existing parts. We have experience in this type of laser cutting as well as the fixturing process that typically goes along with it.
Besides modifying existing parts, we also are capable of flat cutting of various sheet materials including mild steel, aluminum, stainless steel and even wood! Along with our press brake and welding abilities, B&H has an environment set up for prototyping which can help reduce costly hard tooling alternatives. We can run long or short-run production of parts.
The laser also contributes to our tool building as it is capable of cutting stock strips for die try-outs. This allows us to test our initial tool design before hitting a die and possibly causing damage to the tool. Besides being able to cut through materials such as metals and woods, our Prima laser is also capable of welding parts. Laser welding provides a quick and easy alternative to hand welding and provides consistent welds over and over again!
Benefits to our Services:
Faster and more cost-efficient that conventional machining
Able to cut flat or formed parts
Quickly cuts stock strips for die try-out
Can cut up to 3/4″ thick material